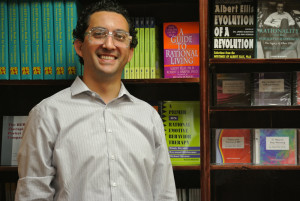 Leader: Ennio Ammendola, M.A., M.H.C. – Certified REBT Supervisor at the Albert Ellis Institute (AEI)
Date: Friday, February 10, 2017 | 1:30 pm – 4:30 pm
Location: 145 East 32nd Street, 9th Floor (Directions)
Registration: $100| F/T Students: $90 | 3 CE Credits
Overview:
Suicide has been a significant public health crisis for a long time and it is still surrounded by limited public awareness and understanding. Furthermore, existing literature suggests that several factors are involved in understanding a suicide attempt and subsequent treatment.  This presentation will explore some of the main suicide factors and how they can be identified along a "wanting to live/wanting to die" continuum instead of using a categorical approach "I want to die" or "I want to live."  This workshop will address high-risk suicidal thinking in terms of subjective versus objective attitude; utilizing a collaborative approach; identifying verbal versus nonverbal communication when assessing clients at high-risk for suicide; the importance instilling hope and addressing ambivalence and understanding hesitation.  Other areas of discussion will include the role the environment plays; the delay-discounting process; structured versus unstructured assessment; a one size fits all versus a client-centered assessment approach; assessing acute versus chronic suicide, and treatment strategies.  A model of a "Suicide Domino Effect" will be presented to integrate these factors within an RE & CBT perspective.  Participants are encouraged to come prepared with clinical cases for role plays and discussions.
Learning Objectives:
Participants will describe the function of a suicidality assessment
Participants will discuss how to formulate a treatment plan with an individualized case conceptualization
Participants will explain the importance of instilling hope as an effective tool in treating suicidal clients
Participants will utilize the "Domino Effect" of suicidality when treating clients at risk of suicide
Schedule:
1:30 – 3:00pm: Review of assessment and treatment planning for suicidality. How the combination of several factors lead someone to develop suicidal thinking
3:00 – 3:15pm: Break
3:15 – 4:15pm: Case discussion and one live demonstration
4:15 – 4:30pm: Question & Answer and evaluations
Registration: $100| F/T Students: $90 | 3 CE Credits
Continuing Education Credit:
Albert Ellis Institute (AEI) is approved by the American Psychological Association to sponsor continuing education for psychologists. AEI maintains responsibility for this program and its content.
Albert Ellis Institute is an NBCC-Approved Continuing Education Provider (ACEP) and may offer NBCC-approved clock hours for events that meet NBCC requirements. The ACEP is solely responsible for all aspects of the program.
Albert Ellis Institute is recognized by the New York State Education Department's (NYSED) State Board for Social Workers as an approved provider of continuing education for licensed social workers #0131.
Albert Ellis Institute is recognized by the New York State Education Department's State Board for Mental Health Practitioners as an approved provider of continuing education for licensed mental health counselors. #MHC-0019