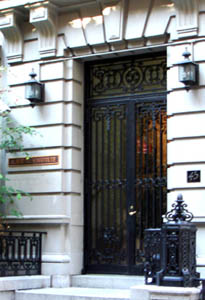 Welcome to the Albert Ellis Institute (AEI), a world-renowned psychotherapy training institute established in 1959, committed to promoting emotional well-being through the research and application of effective, short-term therapy with long-term results.
AEI's therapeutic approach is based on rational emotive behavior therapy (REBT), the pioneering form of cognitive behavior therapy. REBT is an action-oriented psychotherapy that teaches individuals to identify, challenge, and replace their self-defeating thoughts and beliefs with healthier thoughts that promote emotional well-being and goal achievement. REBT was developed in 1955 by Dr. Albert Ellis. Dr. Ellis has been considered the second most influential psychotherapist in history. Prior to this death in 2007, Psychology Today described him as the "greatest living psychologist."
AEI conducts research and provides continuing education for mental health professionals, self-help workshops for the public and affordable psychotherapy and psychological assessment.
AEI is a 501(c)(3) non-profit organization chartered by the Regents of the University of the State of New York.