The official Journal of the Albert Ellis Institute is the Journal of Rational-Emotive & Cognitive-Behavior Therapy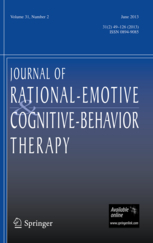 Editors-in-Chief: R.A. DiGiuseppe; K.A. Doyle; D. David
ISSN: 0894-9085 (print version)
ISSN: 1573-6563 (electronic version)
Journal no. 10942
Please go to the official Journal web page for instructions on how to submit manuscripts online. Click here
The Aims and Scope of the Journal
The Journal of Rational-Emotive and Cognitive Behavior Therapy is an international journal publishes scholarly original papers concerning REBT, CBT, behavior therapy, cognitive-behavioral hypnosis and hypnotherapy, clinical and counseling psychology, psychiatry, mental health counseling, and allied areas of science and practice.  The journal endeavors to encourage scholarly debate amongst professionals involved in practice, theory, research, and training in all areas of scholarship relevant to REBT and CBT.  The Journal is particularly interested in articles that define clinical practice and in research and theoretical articles that have direct clinical applications.  The Journal seeks theoretical discussions and literature reviews on the cognitive bases of the development and alleviation of emotional, behavioral, interpersonal, personality, and addictive disorders.  We consider submissions on the applications of REBT to new areas of practice and client populations.  The Journal provides a timely introduction to unexplored avenues on the cutting edge of REBT and CBT research, theory, and practice.
The Journal will publish:
·         original research articles
·         brief research reports
·         research reviews
·         practice reviews
·         empirically-based case studies
·         theory-building
·         descriptions of innovative techniques and procedures
·         discussion of philosophical foundations of psychotherapies
·         theoretical articles
·         articles in advances in clinical training
·         literature reviews
·         book reviews
Under the guidance of an expanded, international editorial board consisting of acknowledged leaders in the field, the journal disseminates current, valuable information to researchers and practitioners in psychology, psychotherapy, psychiatry, mental health counseling, social work, education, and related fields.